Free world is under attack
BMW E91 Rear Window Louver
Reference: SEK100
Select the currency of your region in the menu above
Ready to ship today. We offer international delivery to any country with tracking. The cost of shipping is already included in the retail price.
| | |
| --- | --- |
| Material: | Includes: |
| ABS Plastic | 1-piece louver |
| Fitment: | Payment: |
| BMW E91 Touring 2004-2012 | Apple Pay, Google Pay, Paypal, Credit Card |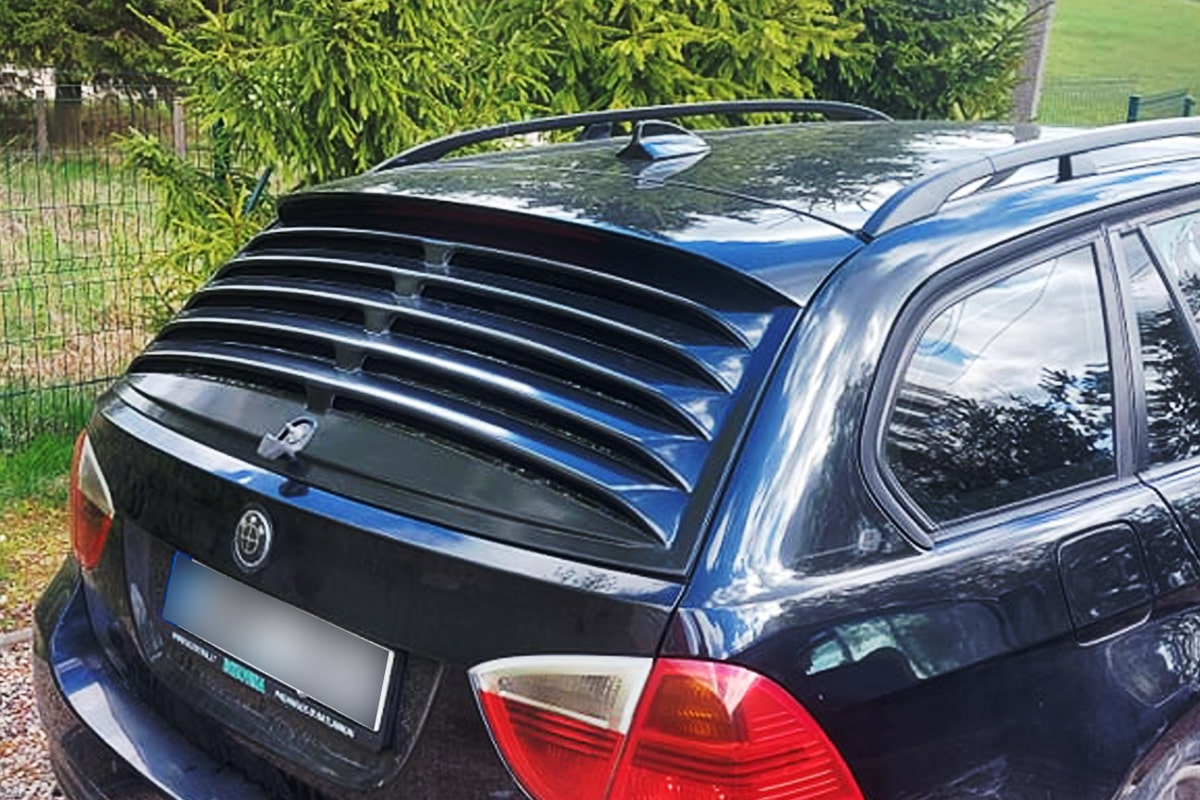 Install in under 60 minutes
Quick and effortless installation process. Perfect fitment guarantee, no drilling or cutting required. Can be installed with double-sided tape or adhesive plates.
Lightweight and durable material
Made of ABS Plastic - perfect material for car exterior parts. Orange peel textured (scratch-resistant) and smooth black (paintable) surfaces are available for a personalized look that matches your vehicle.
Elevate the style of your car
The unique louver design gives an aggressive, sporty look while also reducing the sun's glare and heat inside your car. Stand out on the road with Sekcustoms window louvers!
ESTIMATED DELIVERY
We offer international delivery to any country with tracking. The cost of shipping and handling is already included in the retail price.
North & South America
Europe
USA
9-16
UK
6-10
Canada
7-16
European Union
5-9
South America
12-21
Other Europe
5-12
Asia & Oceania
Africa
Japan
14-21
South Africa
13-25
Australia
11-28
Côte d'Ivoire
13-25
Other Asia
13-28
Other Africa
17-29
Delivery estimates are in business days
GET -10% DISCOUNT

Make the most of your shopping by using discount code BUNDLE at checkout. Purchase 2 or more products and get 10% off the lowest-priced item in your cart!
SEKCUSTOMS BMW EXTERIOR PARTS
BMW 1 Series
Coupe
Hatchback
Convertible

Rear Window Louvers:

E81; E87

Wide Body Kit:

E82
E81; E87; F20; F21
E88
BMW 3 Series
Coupe
Sedan
Touring

Rear Window Louvers: 

E46; E91

Side Window Louvers: 

Fender Flares & Wide Body Kits:

Spoilers:

E46; E92
BMW 5 Series
Sedan
Touring

Rear Window Louvers:

E28; E39; E60
E61

Wide Body Kit:

E39
E39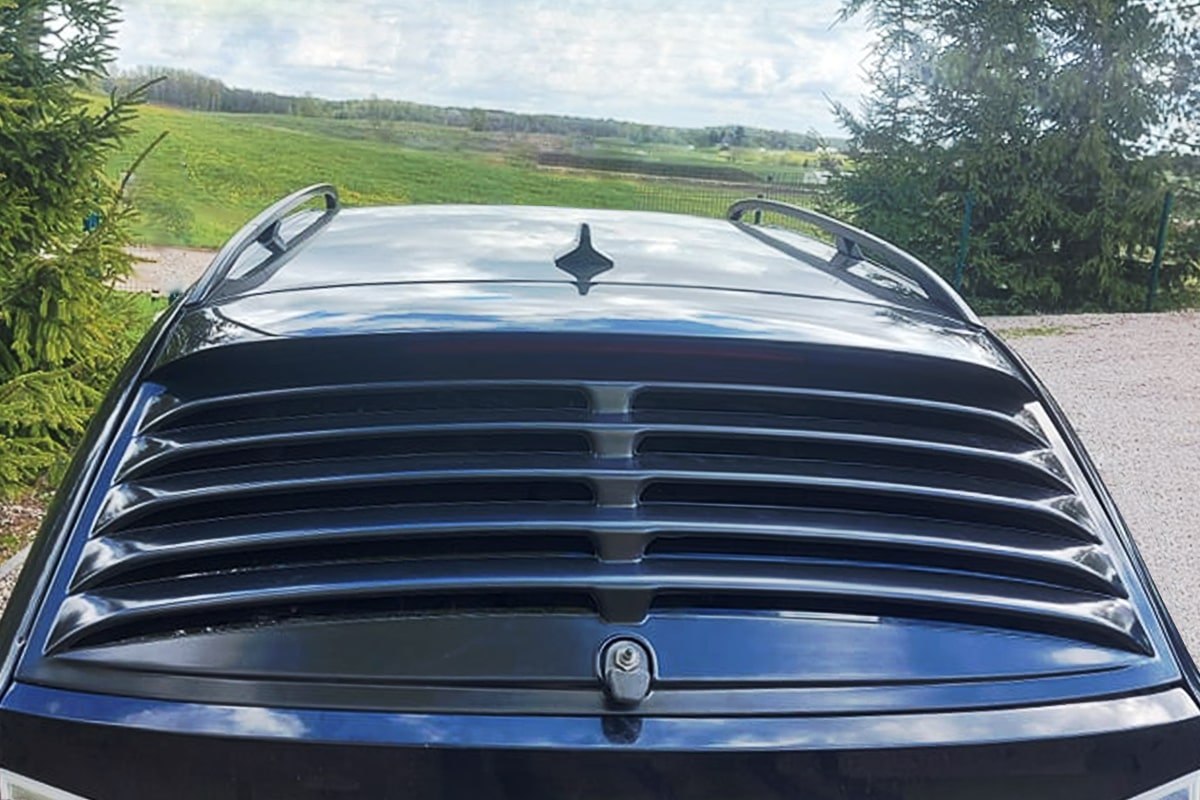 What are the benefits of adding window louvers?
Adding window louvers to your vehicle will enhance its appearance and provide practical benefits. The louvers give your car a sporty and aggressive look while also blocking out sunlight, keeping the interior cooler and more comfortable. Additionally, louvers can provide some level of privacy for passengers, and can also protect the car's interior from UV rays that can cause fading and damage. Overall, window louvers are a worthwhile addition to any car, offering both aesthetic and functional advantages.
| | |
| --- | --- |
| | |
How to install Window Louvers?
Installing window louvers on your vehicle is a simple process that can be done in two ways: by using double-sided tape, windshield glue, or an equivalent adhesive to attach the louvers directly to the window, or by using adhesive plates for easy removal and installation. It is important to note that the necessary hardware for installation is not included with the louvers and that the windshield surface should be thoroughly cleaned before installation for optimal adhesion. A mixture of mild soap and water or isopropyl alcohol with a microfiber cloth is recommended for cleaning the window.
| | |
| --- | --- |
| | |
Did you already complete the installation of this product?
We can't wait to hear all about your experience and see the finished product! Show off your ride by reaching out to us and sharing pictures of your stunning car. At SEKcustoms, customer satisfaction is a top priority, and we would be thrilled to feature your success story on our social media to inspire others to take the leap and elevate their own vehicles. Don't hesitate, let's make it happen!
Unable to find the perfect exterior parts for your vehicle?
Look no further! At SEKcustoms, we specialize in custom-designed exterior parts that will take your ride to the next level. Don't settle for anything less than the best for your vehicle. Contact us at

[email protected]

to discuss your specific needs and let us help you create the ride of your dreams. Upgrade your vehicle with a unique and stylish design today!
Product Features
Material

ABS plastic

Hardware included

No

Warranty

2 year

Paintable

Yes

UV protection

Yes