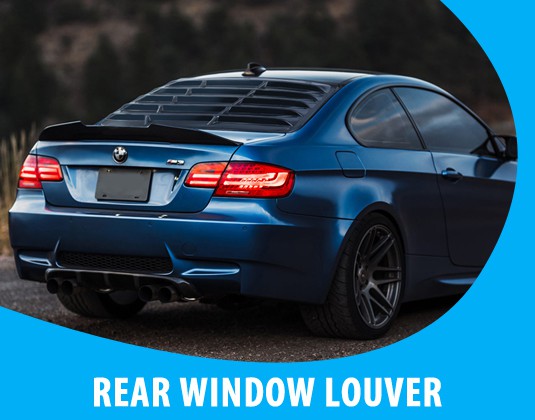 Rear Window Louvers
Window louvres history
Window louvers for performance cars were introduced in the 1960s, this trend was influenced by car manufacturers like Ford, Lamborghini. It is usually called window louvers, however, you can also find alternative names, for example, window louvres, plastic grills, sunshade cover. Although the most common car with plastic grills is Ford Mustang, today we can find not only side window louvers, but also many variations and custom-made rear window louvres for different car models.
SEKcustoms designed rear window louvers
Sekcustoms introduces 3D-designed louvers for more than 15 different cars. Although about half of them are made for BMW cars, in 2021 we created our first louver for off-road SUV – Suzuki Samurai. Sekcustoms team decided to add more products for this car – now you can find hood scoops, fender flares, and rear window louver for Suzuki Samurai. To fulfill our customer needs we have also added side window plastic grills for BMW E46 Coupe and E92 Coupe models. Our product development team is constantly designing new window louvers for different car models. We guarantee the quality of our window louvers by having over 10 years of experience in designing aftermarket car body parts and working with ABS plastic, which is light, strong, and fault-tolerant material. You can also choose two types of plastic grills surface – we offer smooth black or orange peel texture. All of our products are in stock and ready to ship.
What is the purpose of window louvers?
There is a common query about visibility after installing rear window louvers. The main purpose of plastic grills is to reduce sunshine in the interior and keeping your car cool. However, louvers do not block your rear window entirely, you can still see through it with good visibility. There is also a common myth regarding performance increase with window louvers. Unfortunately, plastic grills do not improve cars' aerodynamic or any other performance parameters. However, window louvers surely make your car look more sporty and have practical use by decreasing the glare and temperature of the interior.
How do you install a sunshade cover?
Usually, rear window louvers are installed using windshield glue or alternative adhesives, mounting it directly on the window. There is also the second option – removing your rear window and mounting plastic grills as a replacement. Anyway, in both mounting ways, it is possible to remove the window louver if needed.