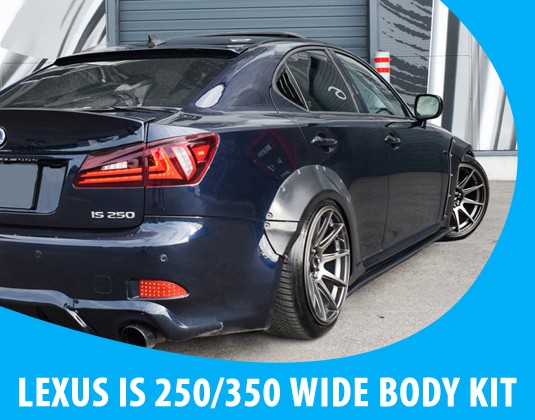 Lexus IS 250/350 Wide Body Kit
Lexus IS 250 & IS 350 Wide Body Kit
SEKcustoms team is proud to introduce one of the most difficult projects – a wide body kit for Lexus IS 250 and IS 350 models. It required months of 3D designing, but after all the hard work we can offer a great wide body kit for Lexus enthusiasts. This body kit is unique in our assortment because it consists of 10 pieces, which required special accuracy and precision to produce a high-quality product for an exclusive car as is Lexus IS 250 & IS 350. We have made a wide body kit that adds 35 mm / 1.37 inches per side. It fits Lexus IS 220/250/350 models made in the 2005-2016 range.
Specifications of our product
Our goal was to create a unique high-quality wide body kit in the market, offering sporty character at an affordable price. At the beginning of the designing process, SEKcustoms team emphasized aggressive lines and a sporty look, matching original body lines. Currently, we have many satisfied customers all around the world, which motivates our team to create more great products for Lexus clients. Recently we have also added a new product - rear window louver for IS 250/350. We guarantee the quality of the IS 250/350 wide body kit by having over 10 years of experience in designing aftermarket car body parts and working with ABS plastic, which is light, strong, and fault-tolerant material. The product comes in an unpainted smooth black surface, which is UV-protected and paintable. You can also have it wrapped, in both cases (preparing for painting or wrapping), the wide body kit has to be primed first.
Installing body kit
To complete the installation of this unique wide body kit on your car, you will need 44 pieces of bolts (threaded rivets + washers + bolts) and 8 meters (27 feet) of U rubber channel trim (optional). You can find more detailed information about our hardware here: HARDWARE. We highly recommend having skilled professionals for the installation of this kit. According to our customer feedback, this widebody kit perfectly fits and lines up with car body lines, moreover, in most cases, the product was installed by professionals. If you have any troubles or just want advice we always love to help our customers to get the best result possible.
Have you are already purchased our kit?
We are eagerly waiting for your customized car photos and we will feature your car with pleasure!